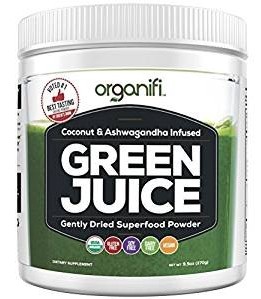 Product: Organifi Green Juice Superfood Powder
Price: $72.99
Where To Buy: Amazon.com
Size Of Container: 9.5 oz.
Guarantee: 60 Day Money Back Guarantee
My Rating: Get it!
Introduction
I used to review products all the time. It's a passion of mine because I want to save others the time I've spent making sure I have the best product for my body. I've tried a few green supplements, but I wanted to do an Organifi green drink review because I liked it so much, I wanted to share it! How does Organifi Green Juice work? I'll talk all about that next. I have been on a mission to get as many fruits and vegetables into my diet. And having a superfood supplement like Organifi really makes a difference.
How To Use
According the Organifi creators, you can use their Green Juice in the morning on an empty stomach to help alkalize your body daily, or midday to reset your body, boost your natural energy, and reduce cravings. You add one scoop to 8-16oz. glass of water. But you can also add to your smoothies as well. I put a scoop in a bottle of water and I drank it throughout the day.
Product Overview
I've been studying what foods are superfoods that I want to put in my body to give it the best nutrition possible. I was trying to put straight spirulina in my protein shakes and it really changed the flavor and made it less enjoyable for me. When I discovered Organifi Green Juice Superfood Supplement I was tickled pink because it has a minty taste and had a ton of superfoods in one glass. And while I love juicing, Organifi works on my super busy days when I don't have time to do a lot of chopping, blending, or cleanup!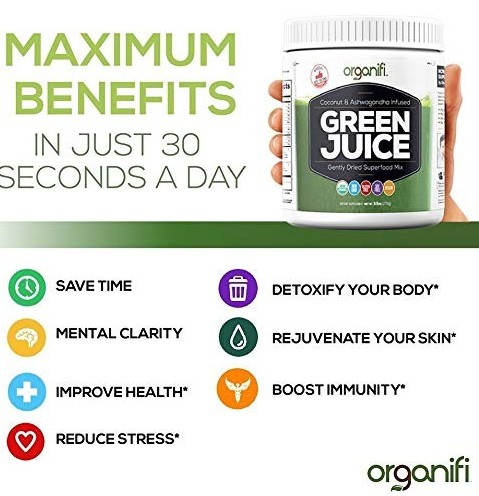 It has many wonderful ingredients, and is listed by the company as being non-GMO, vegan, gluten free, and soy free. It's ingredients include, chlorella, moringa, spirulina, mint, beets, matcha green tea, wheat grass, ashwagandha, turmeric, lemon, monk fruit, and coconut water. There are so many benefits with each of these ingredients, so as not to overwhelm myself, I've listed a few. Some even have similar benefits such as anti-inflammatory, anti-oxidant, nutrient rich, anti-cancer, and much more.
Chlorella – green fresh water algae, highly nutritious, detoxifier, high in protein, anti-inflammatory, improves aerobic endurance.
Moringa – balances hormones, slows aging, protects and nourishes skin, improves mood, improves metabolism
Spirulina – blue-green algae, may be single most nutritious food, high in protein, blood sugar control, and much more.
Mint – calming, soothes indigestion, halts cravings, helps with IBS.
Beets – great natural pre-workout, helps with weight loss, lowers blood pressure, nutrient rich
Matcha Green Tea – great source of EGCG – cancer fighter, boosts mood, aids sleep, lowers stress, helps weight loss.
Wheatgrass – boosts immunity, kills harmful gut bacteria, detoxifier, 17 amino acids
Ashwaghandha – (Indian Ginseng) relieves stress & anxiety, increase energy, improve concentration, lowers blood sugar.
Turmeric – improves brain function, lower risk of brain disease, anti-oxidant, anti-inflammatory, benefits against depression.
Lemon – high in vitamin C, improves skin, supports weight loss, aids digestion, alkalizing, prevents kidney stones
Coconut Water – high in nutrients, hydrates, replenishes electrolytes, great for after workouts.
Monk Fruit – sweetener with no known side effects, safe for diabetics, prevents cancer, stabilize blood sugar, fights fatigue.
Who Is It For?
Everyone! Always, if you have any type of health condition and you want to take a supplement to your whole foods, you want to check with your healthcare provider. But Organifi Green Juice Superfood Supplement has so many powerful, nutritious ingredients it really can be a positive addition to most everyone's diet.
I especially recommend this drink to those who are looking to add more greens to their diet, but they because they are busy may not have time to juice. To anyone looking for more energy, focus, or better sleep. I also highly recommend this drink to anyone who wants to add a green supplement to their diet, but wants it to taste good!.
What I Like About It
I was actively looking at different green drinks when I found Organifi Green Juice Superfood Supplement drink powder. I was disappointed time and again with the taste of these drinks. Over and over I just couldn't add them to my diet because I did not enjoy them enough to do so. And often I didn't have time to blend them with my protein shakes, or in a juice that had other foods to mask their taste. The fresh sweet minty taste of Organifi was such a pleasant surprise, I had to go on to recommend it over and over.
And not only did it taste refreshing all by itself, but it gave me a bunch more energy to get through my busy day. And it kept me away from desserts because I enjoyed it more than them! I slept better, and got so much more accomplished because I had more focus to complete my many daily tasks with my two businesses and my four kids.
What I Don't Like About It
There is very little I have to say in this area to help you. Except that the cost of Organifi seemed a little pricey at first. But if you take the almost $3 cost of a popular green drink found at stores, and multiply it by the 30 servings you get with Organifi, you pay maybe the same price, and possibly more, for a green drink that adds so much to your everyday life. There just wasn't really anything I didn't like about Organifi.
Final Thoughts
I haven't tried every green drink that is out there. And I am sure there are many comparable brands that probably taste good. But I hadn't found any before I found Organifi Green Juice. I can't say enough about what a positive effect drinking it daily had on my everyday energy, focus, and more. When you find something that works great and tastes wonderful, there's really no need to keep looking, and I highly recommend you pick yours up today! It does appear at first to be a pricey product, when you consider the quality of the ingredients, the great taste, and the positive daily effect on your life, it is more than worth it!