In my article: What Is The Best Exercise To Lose Weight Fast – HIIT Training Workouts? I discussed why many experts think that High Intensity Interval Training, or HIIT is the most effective exercise to lose weight fast. I have tried many, many at home workout programs, so this is the first in my Workout Program Reviews series.
I wanted to review the multiple HIIT workout programs that I have run across, that I have had some kind of success with. As with anything, if you don't like it, the exercise program will not work. So hopefully if losing weight is your goal, or you just want to do what many consider to be the best exercise health-wise, I can help you figure out which type may work for you.
Insanity
Just what it says! Insane! I had never done as an intense workout before I did this workout! And if you measure yourself
before you start and periodically throughout the 60 days, you will see a difference. This workout is a high intensity body weight cardio workout with short periods of rest.
I did one of the exercises for an activity for my acting class and everyone could not believe I was able to do such a difficult move! It really increases your confidence and sense of accomplishment as it decreases your waistline. And Shaun T the trainer was one of the most motivational trainers of all of my home workout programs.
The price tag seems a little high, but it is well worth it especially if you consider how much a personal trainer or gym membership can cost. The results are awesome, it is fun, and there's no expensive equipment that you have to worry about. Plus you have Beachbody as a resource, so I highly recommend it, so check out the specs below and go check it out!
From the Manufacturer:
Your personal trainer, Shaun T,
will push you past your limits with 10 DVDs packed with cardio and
plyometric drills with intervals of strength, power, resistance, and
core training. No equipment or weights are needed, and you don't have to
be in extreme shape to do it. As long as you're ready to dig deep,
Shaun T will help you get insane results in just 60 days.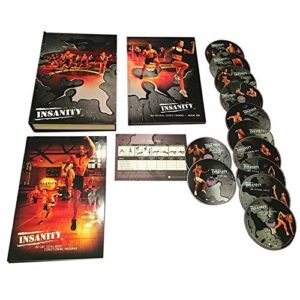 Price: $42.99
Average Customer Rank: 3.4/5 stars
My Rank: 5/5 stars

Specs:
Complete set includes a nutrition guide, calendar to track your progress, and 10 intense DVDs for a great workout

Your personal trainer Shaun T will push you past your limits with 10 workout DVDs packed with plyometric drills

Each workout keeps you constantly challenged as you alternate
between aerobic and anaerobic intervals performed at your max

Perform long bursts of maximum-intensity exercises with short periods of rest

Free online support tools help you stay motivated with round-the-clock access to fitness experts and peer support
Money Back Guarantee: 30-Day
Where to Buy: Amazon
My Bikini Belly
This work out by over 40-year old Shawna K, did what it said it was going to do! I got addicted to the short workouts, since I was used to working out for at least an hour a day, it was a nice switch to something much shorter. They have a 4-minute warm-up and an almost 6-minute cool down stretch, both of which I now use with most every workout I do. The workouts are mostly not more than 20-minutes long. So most days your workout won't be longer than 30-minutes.
I had a super flat belly after the first three weeks of workouts! So I was a fan from that point on. When I purchased this workout I was able to get some bonus workouts as well. I continued working out through the bonuses. I can't tell if those bonuses are still available for purchase, but for the money this program is worth it. Plus it is body weight only, so again no expensive equipment needed to get the results you want.
I only give it a 4 rating because it wasn't a workout that I enjoyed for very long. So eventually I stopped using it for my preferred workout. But when I need a quick fat burning workout, I go back for some of these once in a while.
Price: $15 plus?
Average Customer Rank: N/A
My Rank: 4/5 stars
Specs:
Workout #1 – The Bikini Belly Flush
The secret to 'sequencing' that triggers lower belly fat to melt away.
Unique belly fat movements that light a fire under your metabolism to get it burning fat even at rest.
How to flood your body's cells with 'metabolic messengers' that help defend against the ravages of aging.
Workout # 2 – The Bikini Belly Burn
Easy to perform movements that target your belly fat, leaving behind a tight and toned midsection.
A belly fat routine that literally reprograms your hormones to unlock even the most stubborn belly fat.
My
proprietary 'metabolic countdown' method that triggers a flood of
anti-aging hormones, combating the appearance of wrinkles and fine
lines…
Workout # 3 – The Bikini Belly Blast
Warning: This workout is only effective IF you've already performed the first 2 workouts in the sequence.
How to activate thermogenesis, causing your body's metabolism to burn even more fat, even faster.
My own, personal 'beat the belly bloat' routine which soothes and flattens the bloated look of your tummy.
An almost genius workout 'hack' that activates anti-aging molecules all over your body.
Money Back Guarantee: 60 days
Where to Buy: My Bikini Belly
P90X Part of- Plyometrics DVD
So I'm changing things up a little because I love this workout so much! The HIIT workouts in the P90X workouts are only on
one of the DVD's in the workout program. I will review all three P90X workout programs in a future article, but for now, P90X is one of my favorite workout programs. Trainer Tony Horton hosts these workouts and he is more than a little entertaining, caring, and very motivational.
The HIIT workout in P90X is a little less intense than Insanity, with a little less of a rest in between the exercises. Either one as long as you are going 100% on the non rest exercises will get you that high intensity interval training workout. But to get them you have to get the entire P90X workout system, which isn't a bad thing. P90X as a whole is one of the most well-rounded workout programs there is.
Price: $139.80

Average Customer Rank: 3.9/5
My Rank: 5/5
Specs:
From the Manufacture:
Hosted by superstar trainer Tony Horton, the
secret behind the P90X system is an advanced training technique called
"muscle confusion," which accelerates the fitness process by constantly
introducing new moves and routines so that your body never plateaus and
you never get bored.
What's In The Package?
12
DVD workouts, a comprehensive three-phase nutrition plan, specially
designed supplement options, a detailed fitness guide packed with
valuable information on how to get the most from your program, a How to Bring It DVD that provides a quick overview of the system, and a calendar to track your progress. DVD workouts include: Chest&Back;, Plyometrics, Shoulders&Arms;, Yoga, Legs&Back;, Kenpo, Stretch, Core Synergistics, Chest Shoulders&Triceps;, Back&Biceps;, CardioX, and Ab RipperX.
Guarantee: 30 days
Where to Buy: Amazon
Turbulence Training
This training was very similar to the Bikini Belly training, it even seems to be in the same gym. One difference though, Craig Ballentyne, it's creator, does include some equipment, like dumbbells and the TRX Training Suspension System. I did not use the TRX system when I was doing his workouts, but it was something I did want to add to my home gym.
I did not experience any major change in my fitness workout, but I did enjoy the workouts a lot. The main reason was the same for the Bikini Belly workout, it was a shorter workout. They both believe working out too long puts too much stress on your body and doesn't allow you to lose weight as fast.
And I loved that both could be done easily in a hotel room, which I did take advantage of on occasion. It should also be noted I tried this program until I recently added good nutrition to my workouts. Doing so gives you better results in any workout program!
Price: $27 plus?
Average Customer Rank: n/a
My Rank: 4/5
Specs:
24 Follow Along Video workouts that will melt away fat in Just 90 Minutes PER WEEK
Program Guide so you know exactly what to do each week to get the body of your dreams
Exercise Guide so that you know exactly how to perform every exercise and you never feel lost or confused
The Turbulence Training Nutrition Plan so that you
can quickly and easily maximize your eating for fat loss…without having
to follow complicated diet plans and without having to give up the foods
you love.
The Thermo 30 Workout Plan which is the secret to
turning your fat storing metabolism into a fat burning metabolism simply
by exercising a few minutes per week. You'll burn fat 24-7 while
you're working, playing with your kids and sleeping.
Buff Dudes and Hot Chicks Program where I reveal the secret to getting an amazing, head-turning, heart-pounding fitness model body.
Guarantee: 90 Days
Where to Buy: Turbulence Training
High Intensity Interval Training – Which Is Best For You?
This was a quick overview for each of these. And as I said above, you will be seeing a comparison of the P90X workout programs soon. But if you have any questions before you decide which program is best for you, please feel free to comment below! I'll help you out as much as possible. Whether you want a challenging, super intense workout like Insanity and P90X provide, or shorter, effective workout like Bikini Belly and Turbulence Training give you. It will depend on what you like, what works in your schedule and how much fun you want to have! The one that is best, is the one that works best for you!